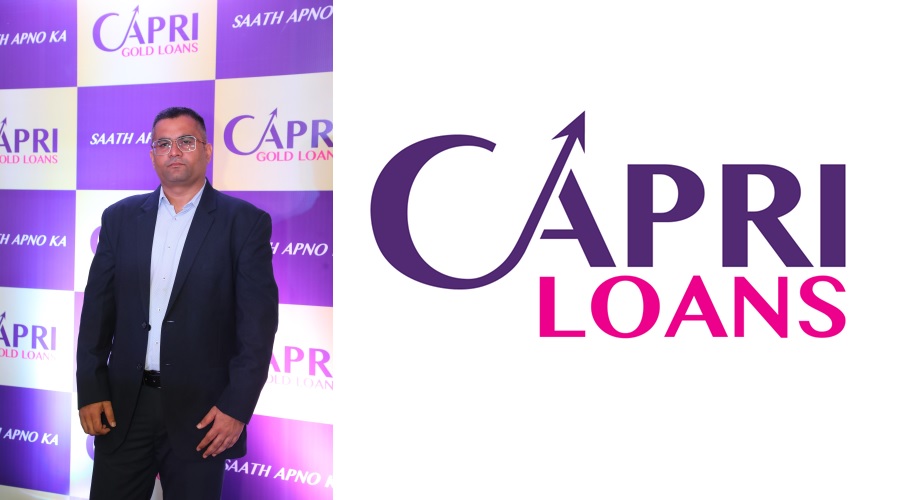 Capri Loans launches gold lending business with over 100 branches
Capri Loans, a leading diversified non-banking finance company (NBFC), which focuses on MSME lending and housing finance, has commenced operations of its gold lending business with over 100 branches. These gold lending branches are equipped with security vaults powered by artificial intelligence, to provide optimal security for gold ornaments. NBFC launched 30 gold lending branches across Delhi-NCR and Haryana followed by Rajasthan, Madhya Pradesh, Gujarat, Uttar Pradesh and Maharashtra. The company aims to operate 200 gold lending branches with AI-powered security vaults by fiscal year 2023 in northern and western India.
Capri Loans is listed on the Bombay Stock Exchange (BSE) and the National Stock Exchange (NSE) and is part of the NIFTY Smallcap 100 Index. The company offers financial services to the unbanked and underserved masses across India, particularly in the northern and western regions of the country, through its strong network of branches spread across 12 states and union territories with a workforce of over 4100 employees and it operates in high growth segments such such as MSME loans, affordable housing finance, gold loans, car loans and construction finance. In the financial year 2022, the assets under management of the company stood at INR 66,325 million.
Fast, transparent and hassle-free gold loan financing will be facilitated by Capri Loans through the implementation of technology in all of its branches. These branches will offer gold loans for terms of 6 to 12 months with several repayment options. Capri Loans will provide loans of up to 75% of the total gold pledged at competitive interest rates. In addition, the company offers additional insurance equivalent to the promised value of the gold ornaments. Rajesh Sharma, managing director of Capri Global Capital Ltd. the gold loan market. Financial difficulties due to the pandemic have increased the demand for credit among low-to-middle income households. Because of the emotional value associated with gold, people pledge their gold as collateral and get a short-term loan rather than selling it. The trend is evident in rural and semi-urban geographies of the country."
He added that through its gold loan product, Capri Loans aims to enable its clients to leverage their secured assets and fund their various needs other than financial emergencies.
"We are optimistic for Tier III, IV and V cities in the north and west of the country. We are aiming to build a gold lending book of a size of Rs. 8,000 crores and expanding our network with 1,500 branches over the next five years," added Sharma.
He also said that in Capri, the continued evolution to become the technology-focused NBFC for new-age borrowers continues and that they believe the next phase of fiscal growth disruption can be achieved through l inclusion of credit. He added that Capri Loans' innovative products, quality services and market knowledge will cushion its efforts to support this idea of ​​inclusion.
Ravish Gupta, Business Leader, Gold Lending, Capri Global Capital Ltd. remarked, "An unorganized sector still dominates the gold lending industry in India due to two major concerns of the borrower – security of their assets and lack of confidence to pledge gold to unknown".
He went on to say that Capri gold lending branches are equipped with AI-powered security vaults to alleviate their security concerns for their assets. In addition, their 100% free insurance, equivalent to the value of the gold pledged, will allow borrowers to worry about the safety of their assets and their dedicated relationship manager for each client will help borrowers have the freedom to to chat transparently and get the desirable advice for they previously relied on moneylenders or ancestral jewelers.
"Our competitive interest rate and transparent payment options will protect our customers from a higher cumulative interest rate. Thus, giving us an added advantage in our operational markets. We are confident that our lucrative gold loan product will help us penetrate the northern and western geographies and achieve our business goal for the next five years," Gupta said.